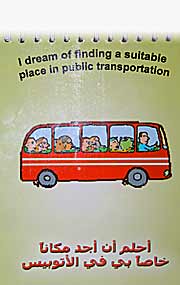 Sometimes we are asked ...
about the Public Bus to Abu Simbel
There is a public bus leaving from Aswan to Abu Simbel and back. The public bus is not allowed for tourists, but for locals only, and you would have to cross checkpoints of the police.
There are hundreds of tourists traveling to Abu Simbel each day, and only very few public busses for locals each day.
The bus drivers are not allowed to take tourists with them, because of security reasons (that's why the convoy with police in the first and last car has to be used) and because locals could not travel with the public bus when tourists were allowed to take their seats. But locals work at / near Abu Simbel, so it is necessary they are not left behind.

It is a rule that every tourist needs to get papers from the tourist police the previous day in order to travel to Abu Simbel with the convoy. To arrange these papers, Waleed needs copies / information from your passports: Full names, nationalities, passport numbers, born when / where, issued when / where, valid until ...
(If you arrive in Aswan only shortly before your trip to Abu Simbel, you can send them to me by email)
Some tourists see it as some kind of sport to undergo rules and try it anyway.
Some are taken out by the police at one of the checkpoints to wait for the next convoy or to pay baksheesh to be able to continue to travel.
Some tourists bribe the driver, while locals fight to get in the bus also - because for locals there is no other way to get to Abu Simbel. Still the driver cannot do anything for the tourist if a policeman will make problems at a checkpoint.
I wrote about this to someone from France. In May 2008 she wrote me this email:
"Dear Petra,
returning from Egypt, I am sending some informations for future questions of travellers:
We took a local bus at 5 pm from Aswan to Abu Simbel without any problems; fare was 75 egp each.
We were 2 + 3 others spanish women.
2 police controls, about 2 mn each and no problem."
So it is up to you to decide how to travel.
And if you decide to travel with the public bus, we cannot help you. We even don't know departure times, because we don't need this local bus. Waleed has to work with the tourist police every day and he would be in trouble, if they would assume he would help tourists to undergo their orders. Please understand.
Traveling with the convoy - click here to read our
Abu Simbel homepage





Note: Waleed (or someone he sends) will meet you in your hotel (if you stay at Movenpick or Pyramisa Island: at the ferry on the Aswan side) and wait with you for the driver. With Aswan Individual you will not be left alone to wait for the driver!

130 USD for limousine (AC, size Toyota Corolla;
up to 3 persons)

Private microbus with aircondition for you and your group (no sharing with strangers):
180 USD for microbus (up to 6 persons allowed inside)
incl. permissions and taxes.

-------------------
Optional:
with guide:
plus 45 USD
(Guides are NOT allowed to go inside the temple with you!)
-------------------
Optional:
Meet guide near highdam on the way back to explain to you Highdam, Philae, Obelisk - guide will also negotiate and pay the captain to Philae and back (boat included):
plus 78 USD for limousine
or 93 USD for microbus.
(Tickets not included)
Optional:
Driver stops at Philae
- no guide,
- boat to Philae not included
plus 38 USD for limousine or 48 USD for microbus.
(Tickets not included)
-------------------
** guides are not allowed to go inside the temples with you!!!
More pictures about
Abu Simbel are shown in our facebook album