Anakato
(this applies also to other Nubian guesthouses at Gharb Seheyl)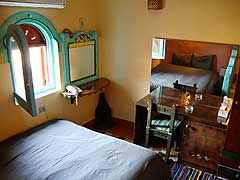 Anakato is a great place, but it is difficult to reach, because one has to cross highdam to the westbank side and then take a bad bumpy and dusty road back north again. Anakato is at its end and drivers are afraid about their cars and have to wash their car from the dust after their return to Aswan.
As far as I know, Anakato sends a boat for free for guests arriving in Aswan and also to depart from Anakato finally on the last day they give a free ride to Aswan.
But it is not us but you who have business with Anakato: please confirm with Anakato about their services!
If you stay at Anakato and you want to make a tour with Aswan Individual, you can rent a boat from Anakato to come to Aswan or
you can call Waleed (++2) 0100 - 250 95 88 to send a motorboat to pick you up / or take you to Anakato (11 USD).
These 11 USD is the price for one transfer for the boat and captain (not for each person).
= if you want to be picked up in the morning and brought back to the evening = 2 x 11 USD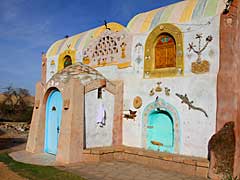 Advice if you want to visit Abu Simbel:
Please travel to Abu Simbel with the 2nd convoy (leaving at 11 am)!
If you have to use the first convoy (leaving at 4 am) for Abu Simbel, please understand:
Because of the distance it is not possible to pick you up by boat from Anakato in the middle of the night to bring you to Aswan and join the first convoy. In this case Waleed would come with his own car to pick you up or convince a driver (which is usually not that easy) = 11 USD (= enough for 2 persons plus driver and Waleed to come and pick you up).

Because of the condition of the road drivers refuse to go to Anakato with microbus. If you cannot use the 2nd convoy and you are a group of more than 2 persons, Waleed would have to bring more cars (3 persons each; 11 USD) to bring you to Aswan.
Sorry about this inconvenience but we found no other solution. Anakato is a very nice place to chill out but has the disadvantage that it is not around the corner from Aswan downtown.


Second:
Anakato has three houses at different places in Gharb Seheyl. To find you, we must know in which house you will wait for us. Especially to meet for the convoy to Abu Simbel it is essential that we are well informed to make sure the convoy will not leave without you while Waleed or Sero are running through the village trying to find you.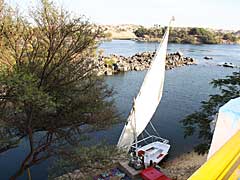 Pick up by boat: meeting point
is down the stairs where you can see two motorboats on the top picture for the last house in Gharb Seheyl or our felucca on the picture to the right.

In case of the other houses of Anakato in Gharb Seheyl,
your captain would come to the hotel terrace to meet you (picture below).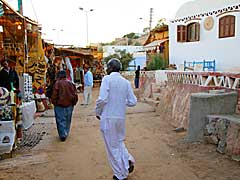 Transfer to or from Anakato by boat (one way): 11 USD
Transfer to or from Anakato by car
(2 persons, one way):
11 USD to take you to Aswan
Every more car
(3 persons each, no microbusses):
11 USD to take you to Aswan