Desert Safari à la Aswan
This "safari" is without camels, horses, quads or jeeps - it is just a walk (2 kilometers?) for fun and enjoyment, combined with a felucca tour (1 hour depending on the wind) to take you there (and 1 hour back = count 4-5 hours).
Anyway you should be fit and not have health problems (high blood pressure, weak knees, etc.) Aswan Individual does not accept any liability concerning your health!
Also this tour is only adviced when temperatures are below 30 degrees Celsius.
The tour can be combined with a visit at the Monastery of Simeon (= count 6-7 hours)

Posted from "Hajo" and copied from his facebook website:

"I love to spend winter in Aswan, so I decided to return for the third time since 2008.
Sero was my captain and guide.
We started at Elephantine and sailed below the "Dome of the Winds": Qubbet el Hawa - the Lighthouse from ancient times on top of the Tombs of the Nobles.
(Pic 1 and 2)

I tried to get a camel, but they prefered to eat and were far too young to ride (Pic3).
So we started to walk in the direction of Morocco (only 5000 km west. Pic 4)
it was hot ... (Pic 5)
Sero, my guide, was fast ... (Pic 6)
Did I mention it was hot? (Pic 7)
... only our shadows were left (Pic 8)
But we did not give up ... (Pic 9)
Finally we arrived at Qubbet Scheich Osman
- another lighthouse beside the First Cataract
(Pic 10 - 12)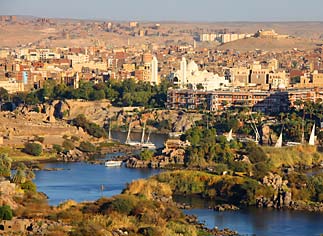 ... with view down to Aswan, Elephantine, Botanical Garden and across the First Cataract with the Dam at the horizon.
Not far is a bolder (Pic 13)
with several Hieroglyphs (Pic 14).
Last traces, but I could not get the sense.
Far away the Nile said hello
but we proceeded (Pic 15).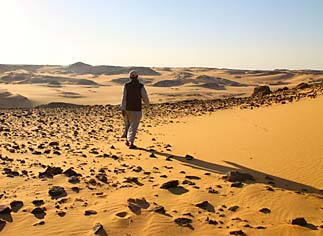 We crossed the "Egyptian Wall"
(this is a joke, Pic 16)
and had a wonderful view across the Cataract
(Pic 17).
We cheered up seeing water ... (Pic on top, right side)
and went skiing downwards the dunes (Pic 18).
to find the camels still eating -
only the Crocodiles had not eaten yet -
returning with the felucca I congratulated myself:
what a great day!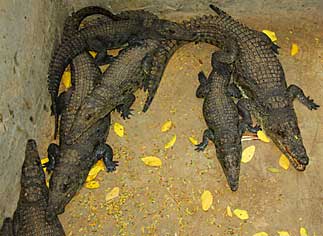 Advice:
If you like to combine the Desert Walk with a visit at the Monastery of Simeon, you could start sailing in the morning, stop at the monastery, walk (or ride with a camel up to the monastery), visit (tickets cost 30 EGP each - Jan 2014), walk down to the felucca, proceed sailing about 45 min. Stop, have Sero, your captain to guide you: cross "Pharaonic Restaurant" (where they also keep the camels), walk into the desert, up on the hill turn to visit Qubbet Scheich Osman (Pic 11), the bolder with Hieroglyphs, walk back to a big dune and surf down to the Pharaonic Restaurant again - where the felucca is waiting to take you back to Aswan.
Count 6-7 hours - if you want to order something at the restaurant longer of course.
One felucca
each hour
13 USD
Possibility to visit Cafeteria (pic No.3) at beginning and / or after the walk
(drinks or lunch not included)


If no wind to sail:
• Motorboat to tear the felucca against the current to where the walk begins, walk, and then sail back quietly (without motorboat) with the current (relaxing and beautiful):
felucca each hour
13 USD
plus 1x 14 USD for the motorboat

or

• Motorboat only
- if no wind:
cheaper than felucca plus motorboat
(but motorboat is loud, felucca is quiet)
- if you want to see much within short time (motorboat is faster than the felucca)
each hour 14 USD