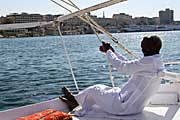 Nubian Villages: Gharb Aswan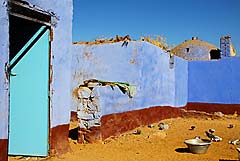 Gharb Aswan is not a place where tourists go usually, its where Nubians live, who had to leave their villages south of Aswan, after the building of the highdam. Who built new homes in their old traditonal architectural style with cupolas, painting most of the houses blue or yellow. Its not a place you will find in your guidebook, but its beautiful to make photos there and to get an insight near Aswan about a non-touristic Nubian Village.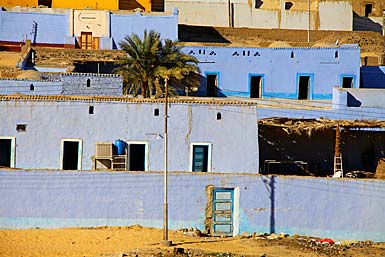 Gharb Aswan (in English: West Aswan) is north from Aswan on the west bank: Nubian villages with more than 10.000 inhabitants. On the way to one of the the villages one could see until 2011 cows moving wheels to pump water for the fields. When I visited Gharb Aswan the first time I had been so fascinated, I sat down and watched the water mill, making photos and finally I had to leave again, without visiting the village itself, because it became so hot I just needed to swim.
Unfortunately for travelers and photographers the water mills are not working anymore with cows but have all been exchanged to water pumps working with fuel.
Of course I came again: to sail along "the skyline" of Aswan, relax with a glass of tea, visit the sister in law of Sero who lives there, spend a beautiful afternoon on the Nile, especially when its so hot, that there is no way to visit any other sights by foot.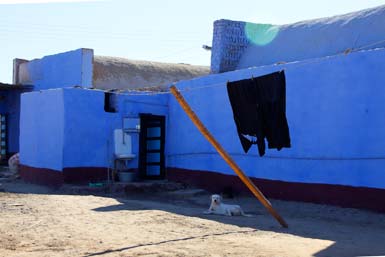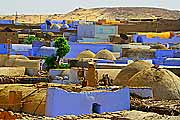 Felucca when good wind, (motorboat possible if wind is missing) to drive to Gharb Aswan, visit and see the Nubian Village, be guest in a Nubian house.
Back to Aswan with the boat. All together takes about
4 hours,
13 USD each hour for the felucca
(14 USD each hour for a motorboat).
Please bring / have Pound Notes to give as a tip for the visit in a Nubian House and the tea.
If you want lunch:
19 USD each person.
In case you will get a "show" on the way for you (posing for photos at the cow wheel, kids singing for you, ...) please have some tip in EGP ready or sweets for kids.
Possibility to get lunch at a private Nubian House from the captain's family: 19 USD each person
Fotos:
Carol Waller (3)
Claude Le Roux
(3rd column, 4th pict)
Petra Dressler