Jeff and Henrietta in Aswan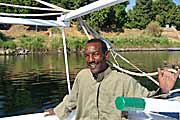 When Jeff and I embarked on this Egyptian adventure, it was hard to know what to expect. Sure, we knew we would see some of the greatest wonders of the Ancient World that transcends time to our present day of internet craziness and preoccupation with rushing and getting things done quickly as most people's daily reason for existence.
Cairo is unbelievable (described in another narrative, see next chapter right side), the exact opposite of Aswan.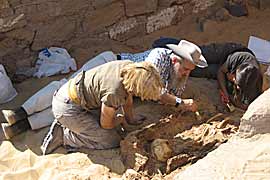 After waking up from an overnight sleeper train, we wondered how we would connect with Mustafa. Lo and behold he found us among a crowd of locals and tourists. We must have had an invisible sign that says, "Hey Mustafa, here's Jeff and Henree. Welcome with a smile!" And that moment, early morning at the Aswan Train station, began some of the most memorable days and nights that we will remember for the rest of our lives.
From the short taxi ride, we took a boat to Mustafa's house side of Elephantine Island. It was a warm November day. While I rested in his lovely bright yellow, chartreuse green and turquoise blue house, Jeff walked through the ruins of Abu (see picture), encountering some archaelogist on a major dig. That evening after a home-cooked Nubian meal by Mustafa's Mother and sister Fatima, we ventured into the modern, sleek and impressive Nubian Museum. We walked through the Nubian garden, the Coptic church and downtown Aswan, marveling at how more laid back it was to crazy, frenzied, dense and the non-stop pulsing of big city Cairo.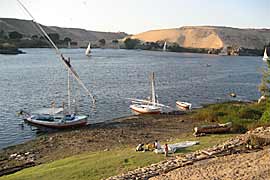 We met Waleed one afternoon at a Cafe in Aswan, and discussed our exploration plans. He made the arrangements for us, and proceeded with setting us up with a taxi and a guide.
Mustafa's home was our base, in between crossing the Nile to Aswan proper, each boat ride brought an experience and encounter with the locals as we passed through their homes, walked by at their prayer times, cutting through their little herds of goats, or stopping by the corner internet cafe by the boat dock. In between, we caught tours of the Unfinished Obelisk, the High Dam, the complex of Kalabsha, Beit-al-Wali and Kertassi (altogether below the dam in Lake Nasser), and the magnificent Philea Temple. The tours were all arranged with Professor Abdullah through Waleed, who was always willing to go the extra mile to fit our requests and wish list into the time constraints of touring by private taxi.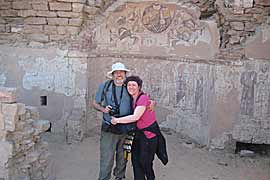 FInally the day came when we were to sail the Felucca for a day for the first time. Mustafa, Jeff and I spent a lovely day with stops and adventures at the Tombs of the Nobles, Kitchener's Island (Aswan Botanical Garden) and Sheyl Village, where we became a site to swarm around in for a horde of women and children to find as captive buyers for their handmade beads, necklaces, bracelets and more. Finally, I had to put my hands up and say enough! I can't buy from you all. A friendship, and a special bond between the three of us was born.
We spent our Thanksgiving 2009 at the loveliest and most quaint Eskaleh, the most exquisite yet comfortable little inn we have ever stayed in after a caravan to Abu Simbel. At Abu SImbel, we came face to face again with the many life-size larger statues of Rameses and Queen Hatshepsut. After sunset, with its internationally-produced "son et lumiere" show, the the crowd sat and watched in awe at this site where most of these relics of a grand history were moved and saved from eternal burial under the depths of the dam, where Lake Nasser now dominates.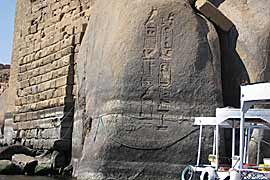 And just like in the movies, the felucca journey was a production of film-like shooting. Captain Mustafa, and his adjutant Menshawy prepared the boat and supplies to the detail. The boat in shiny white and blue, was waiting proudly to welcome us as boarded for our adventure and journey. The sailing was always calm and smooth and only often interrupted by the gigantic commercial, petrol-gushing and leaking cruise ships which lined the docks, and looked like giants taking over the beautiful, peaceful Nile with their load of international tourists docking from shore to shore. It will be ideal, if one-day the authorities will give back the Nile to the feluccas and the dalahabhiyas which maintain nature and man's way of sailing, depending only on the wind, the waves, and the able knowledge of the Captains and Crews that ply it.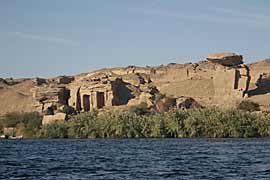 The Nile, coming face to face with it, its many facets, shores, cataracts and views, was a daily sight to behold. Just like in the movies, and parts of the Bible, it came to life each day, and night. Papyrus bushes lined its shores, I only imagined what they looked like from the story of Moses, and here now, they were around us. Egret birds, and fishes living amidst the picturesque views, small villages, co-existing with what today's River Nile has become, a mixture of the ancient and many touches of modernity breaking its seemingly sacred look, with so much of history aching to stay, but at risk of disappearing due to man's lack of will to preserve, the need to exist and find a way to make a living, because of pollution taking over, and utter poverty which does not allow much for choices. For at the end of the day, in a poor country like Egypt, where a military dictatorship rules, under the guise of democracy, one can one expects much from its common citizen. They need to live day to day, find a job or try to start a business to feed their family, practice their faith, and still hope and dream for a better future, or maybe not.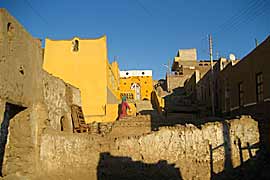 The challenge --- living on a felucca for three nights and four days was going to be a revelation. The meals were always a delightful surprise, Mustafa and Menshawy provided lovely Nubian dishes from tasty stews, vegetables and yes our NIle-caught tilapias fried and eaten to the bones with their popular rice and noodle staple. Breakfast, snack, tea, lunch and dinner was a pleasant and delicious surpise. Service was par excellence. Sleeping on the top of the mid section of the boat, meant getting ready at each nightfall to have the sails come down, and the side canvasses be drawn for privacy and to protect us from the cool night. Jeff and I with our sleeping bags and extra blankets cozied in each time, while the Captain and his crew shared his private cabin. Toilet needs were a different story. The males will always have the advantage, and the woman, alone, was me, had to find the most creative means to relive myself each time nature called. It meant finding a nook on shore, or a public toilet to proceed with what needed to get done. Showers, what showers? Thank goodness, it was a cool November which made it possible to be without the pleasure of a daily shower or bath.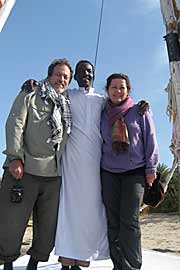 Through each day of sailing the Nile, we journeyed to a new historical site. The Temple of Komombo, which only was part of the gigantic and enormous ruins and temples we were to see on each given day, onto the cult center and quarry of Sinsilla, passing through Edfu and finally, we landed, unloaded and took a taxi to Luxor.
It was the end of a restful mid-trip, the oasis of our Egyptian journey. Most importantly, the highlight of our Egyptian adventure.
Thereafter, we were ushered and delivered to our new host, courtesy of Waleed's services at the Hotel Oasis in Luxor, for the final chapter of our personal discovery of Egypt then and now.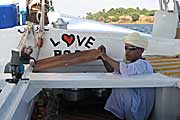 Jeff and Henrietta in Cairo
Jeff and I arrived in Cairo on November 19th after a wonderful Turkish Airlines flight from Istanbul, where we spent 4 nights, with a scheduled return before going back to New York City.

Traffic from Cairo Airport seemed like a time from my past slowly being relived... Manila, Bangkok, Hong Kong and the like.

After a whirl through Cairo streets and into the noisy, hustling (really), bustling, dirty, dusty, garbage, dogs, cats everywhere Cairo, we arrive in our hostel/hotel the Hotel Osiris. Located up on the 12th floor of this semi-rundown building, we finally get to our room to settle down a bit, and face the reality that Cairo will be more than interesting.

The hotel was an oasis in the midst of our hour-long trek into the crowded City.

Our room was very clean and bigger than normal, however certain quaint touches, but overall still a pleasant place to come home to after every day of our Cairo ordeal (yes, it was more than an experience).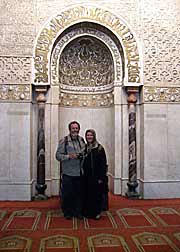 We decide to walk down the streets and look for the Egyptian Museum, one of the many sites we plan as a must see for the three nights we were going to spend in Cairo. Then we encounter the nightmare of all nightmares -- crossing Cairo streets, with no traffic rules, more the absence than the lack of pedestrian lanes, cars driving at night with no lights on, people crossing the streets without looking at any oncoming cars (this one we are familiar with in the U.S.), Jeff and I take our plunge. Whew and more whew, did we succeed. On the return cross, we encountered our first kindest man in Cairo we ever met, a professor who spotted us on the crazy thoroughfare and escorted us to cross by using his own body as our shield. What an Angel sent by Allah in this dense City to save us on that first night in Cairo. He led us to a national store selling essential oils, jewelry where we sought rescue for awhile and bought my first purchase, a silver earring after being offered tea and some nice conversation. And yes, we were offered some soothing Egyptian tea, which fueled our depleted energy back to walk and explore some more.

We got our first walk across the Nile, over the bridge, of which on one side becomes a night walk cafe with plastic chairs placed by ingenius enterpreneurs hawking chai, coffee, cold drinks and whatever is the fancy of the locals for the evening. A lover's walk, families gathered all over,
men chatting in their jalabhiyas, most women in their traditional garb of a long black shift dress with veils, and many modern Muslim young ladies veiled but wearing denims and other western clothes. Many boats, cruise ships ply the river. The smell of petrol, gas and diesel fumes, the gray haze of pollution envelopes the sky and the Cityscape early inthe day then partially clears and comes back later in the day, very busy indeed 24 hours a day. The call to prayer 5x a day becomes melodic and very musical to the ears,at some times, totally mesmerizing to the listener in the distance like Jeff and I. And we thought only NYC never slept, well let me tell you it ain't so.

Cairo being the 2nd most dense city (next to Mumbai/Bombay) can't be beat. If you want to test your high blood pressure, your patience scale, your irritability barometer, take a flight to Cairo. I guarantee you, for at least one time, and I bet even more, you'll scream, be totally stressed and perhaps get all your frustrations bottle up in less than 24 hours or a bit more for those of who grew up and have lived in developing countries of this great world. In such a setting, there is no better word to speak out along with your raised arms, but "Enshallah."

Then off Jeff and I went to find Felafela, a so-called well-renowed Cairanese restaurant in the middle of hustle and bustle of this one big (22 Million) metropolis, where we had our first taste of Egyptian cooking.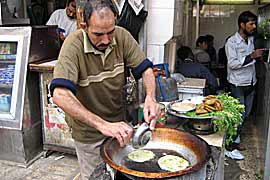 More home-style than anything else, a typical Egyptian meal open ups with mezes, flatbreads, tahini, moussaka of sorts and shredded, chopped vegetables with lemon, a variety of soups, and then mostly Egyptian stews of beef or chicken or fish, lamb with lots of tomatoes, onions, some herbs, and okra, jaw mallow ( I know what they look like, but need to check out the more common name). The meal was fine... and off we went walking back to our hotel, feeling spent for our first night.

Mr. Nabil, owner of the Hotel Osiris suggested we spend our second day visiting the pyramids in Cairo area: the Step in Saqqara, the Black pyramids in Dashur, and went to various tombs. Towards sundown, we finally met up with the Great Pyramids of Giza, and saw the Sphinx face to face. Many pictures have immortalized these pyramids, seeing and witnessing them is a totally separate thing. We were there, though among hundreds of tourists spread out on the vast grounds of the desert, it was for real. This was not us looking at some tourist book or National Geographic. Though I hate to use the word, it was indeed "awesome!"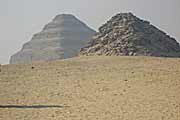 There is so much to said about the trying experience of being rushed from one pyramid to the other, the distances between them, the absence of knowing the Egyptian Arabic language. But because of our inefficient management of time, and the lack of better communications with our Driver, we missed entry to the Solarboat Museum at the base of the Great Pyramid of Cheops. We rushed and we ran, because we were told it would still be open, but the guards rule the hours at their leisure, they closed 15-minutes early. We were frustrated, and lost the once in the moment chance to see major artifact that played a main role in the funeral processions on the Nile of the Pharaohs. I felt bad, because Jeff wanted so much to see it.

Gamal, our driver and sort of guide, a totally devout and prayerful Muslim drove us through the pyramid sites, Coptic and Islamic Cairo. At one site, he disappared around 12 Noon, only to get him back after mid-day prayer; in the car he tunes his radio to the Koran station. His devoutness was typical of many of the Egyptians we came across; and yet there were also many who were not as religious. Some of the greatest Islamic Mosques in the world we visited, Al-Hasan, the Ramiya and yes the Citadel, up above a hill, overlooking this enormous City. In one small area, one of the oldest parts of Cairo, three of the world's greatest religions converge, represented by old and magnificent churches, numeorus mosques, and the one and only Synagogue of Ezra, no longer used for worship (one of three remaining in the City), but stand as a museum to the Jewish faith,

Baksheesh is the word out here. Tips, tips and more tips. Tips to open a door, be given toilet paper in the WC (water closet -- aka toilet, restroom, bathroom -- remember between the French, the Brits and a few other nationalities certain terminologies have lingered.).

On the third day we finally got to the world-renowned Egyptian Museum. What a great collection,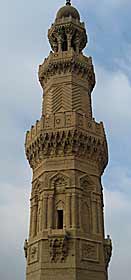 some of the world's best, unique and out of this world collection of artefacts but totally in a state of crumble, disrepair and disorganization, or utter lack of space. How sad but true -- the best part of it all seeing the rest of the Tutankhamun collection (after the De Young in SF 2009-10 exhibition), the Royal Mummies and just being in a place of history.
Seeing the mummies in their glass coffin-like cases, in a separate wing of the museum was well worth the experience. Cameras were banned, but it is unfortunate how so many break the rules, including a totally veiled-teener, who kept shooting the mummies with her cellphone camera despite the blatant signs saying no to do so. I couldn't help it, I reported her to one of the staff. Why, it was unfair for us who followed the rules!

Thereafter, we spent the afternoon walking the streets again, and finding Le Bistro, a lovely French cafe with wonderful food, quiet ambiance, and the best espresso I had in Cairo.

Off we go to the Giza Station to catch our Abela Sleep Train--- a la Agatha Christie, but not the Orient Express either. Good-bye Cairo, the hustler City, very intense. Off we went keeping our fingers and toes crossed that Aswan will be a totally diffrent encounter.

Until then, without any mystery or suspense, yes Aswan is the total opposite, a beautiful, slower, charming, picturesque City. We shall be sharing our new found lovely Aswan. We shall find out what Abu Simbel is all about. This is where we found the restful feeling of a more provincial lifestyle, savored delicious food, and the rare hospitality of Mr. Fikry, his family and friends with local music and song at the Hotel Eskalah. We will narrate the three-night Felucca adventure with our Nubian friend, host and Captain Mustafa and Menshawy from Elephantine Island sailing through the mighty River Nile. We proceed to Edfu, Luxor, Karnak, Abbydos, Dendara, Valley of the Kings, where Mr. Hassan of the Hotel Oasis listened and accommodated every request and inquiry. Perhaps, we can squeezed in a day or two to Alexandria and no more Cairo (I wished at that point) then back to Istanbul, NYC for work and home to SF.
After the Aswan experience, and with me being under the weather, feeling worn out, and having a sore throat and cold (I suspected from the dust and heat exploring underground tombs and the desert), I reluctantly returned to Cairo and gave up on the possibility of meeting Alexandria which was on my original list. Jeff was willing to give it a shot, but considering all our baggage, the discomfort of another train ride and hauling things for only less than two days in Alexandria, I sadly gave up on my goal. My body was plain tired. Jeff and I made a pact to give Cairo one more try. He finally agreed to see Cairo my way... that is to see go visit Heliopolis/Maadi and the areas where urbanite Egyptians go and where my friends Marydee and Susan who lived there said we should visit. Thank goodnes we did. We found a newly-opened bakery cum cafe, owned by an American lady from Portland married to an Egyptian. We walked through the plush streets, and shops, even chatted with two Filipina domestics working for diplomats while browsing, visited a museum, and ended a beautiful day by the river at the relaxing Sequoia restaurant. This is where Jeff enjoyed his first experience with the hookah with the advise of new-found Saudi young man who suggested the best flavors to try: lemon, peach and mint. I took a puff or two, and that enough for me. But the music was lovely, the food was good and the scenery was romantic. Finally, I sighed and felt at ease after weeks of rush and nonstop activity. Yes, there is a calm, quiet and oasis amidst the craziness of Cairo, and for one brief afternoon to early evening we sampled it, and thanked each other for giving Cairo another chance. We realized that much of what we experience is the feeling the attitude, and the willingness to be open to a place. Yes again, we did just that.