The Sound-and-Light-Show at Philae is like a symphony of illumination. One walks along, listening to a tape telling the legend about Isis, Osiris, Seth, Hathor, Horus, the Nile and the history of Philae.
It is so beautiful, I could go there again and again. You have to take your time, it takes a while to listen to the tape while enjoying the changing of the lights.
Only disadvantage: To vist the main temple inside and marvel at the beautiful reliefs at the walls, you will have to come during the day.
Schedule (= link from www.soundandlight.com.eg - without responsibility taken)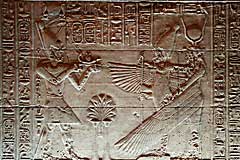 The myth of Isis and Osiris
Copied from Wikipedia with all credits to their authors and Terms of Use. This is only one chapter from this interesting link called "The coffin and 14 parts".

"...The original form of the myth states that Osiris was killed by a wooden sarcophagus secretly being made to his measurements by Set, who was jealous of Osiris's position as king, and so plotted to kill him and take his place. A party had been held where the coffin was offered to whoever could fit inside. A few people tried to fit in, but to no avail. Osiris was encouraged to try, but as soon as he lay back, the lid slammed on him and was locked. It was then sealed with lead and thrown into the Nile. Upon hearing that Osiris was gone, Isis set out to look for him. She was afraid without proper ceremonies and burial Osiris would not be able to go to the place of the dead.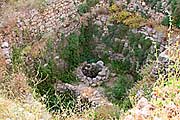 She later learned that the coffin had floated down the Nile river up to the coast of Byblos (now in modern day Lebanon) and got embedded in the trunk of a cedar tree. She also learned that the cedar tree had been taken and used as a pillar to support a palace for the king of Byblos.
Again, Set found Osiris' coffin, took his body out, and dismembered him into 14 parts, scattering them across the land of Egypt. Each part represented one of the 14 full moons (each year has 12 to 14 full moons[1]).

Once again Isis set out to look for the pieces and she was able to find 13 of the 14 parts, with the help of Nephthys, Seth's sister-wife, but was unable to find the 14th. Instead, she fashioned a phallus out of gold and sang a song around Osiris until he came back to life.
Osiris was resurrected. He could have proper ceremonies and burial.
Due to this experience, Osiris became Lord of the Dead, and the Afterlife. [2]"

(Lonely planet (Egypt, published May 2008) states on Page 235: "... Another version of the story has Isis collecting the parts of Osiris and reassembling them to create the first mummy, helped by Anubis, god of embalming. Then, using her immense magic, she restored Osiris to life for long enough to coneive their son Horus ..."
Guide Abdul from Luxor: "Isis found 13 parts but not the 14th one. So she changed her arms to wings to be able to "make magic" and spend the night with Osiris to become pregnant ..."
(I love this version best, because on many reliefs she has her wings around Osiris - what a nice image to embrace with wings to "make magic")
Copied from Wikipedia about Horus (Falcon God of the Sky) with all credits to their authors and Terms of Use. This is only one chapter from this interesting link called "Origin mythology".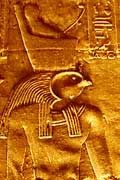 "Horus was born to the goddess Isis after she retrieved all the dismembered body parts of her murdered husband Osiris, except his penis which was thrown into the Nile and eaten by a catfish,[5][6] and used her magic powers to resurrect Osiris and fashion a gold phallus[7] to conceive her son. In another version of the story, Isis was impregnated by divine fire.[8] Once Isis knew she was pregnant with Horus, she fled to the Nile Delta marshlands to hide from her brother Set who jealously killed Osiris and who she knew would want to kill their son.[8] There Isis bore a divine son, Horus."
More about Horus and his battles with Set, please read the Chapter "Sky God" and "Conqueror of Set" in Wikipedia.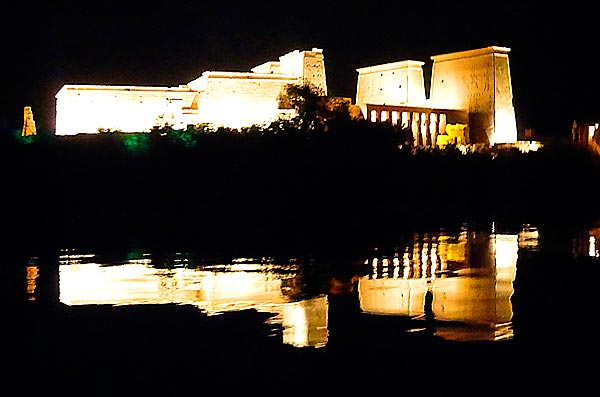 Photos:
Isis and Osiris arm-in-arm receiving gifts from the Pharao (relief inside Philae temple)
Fountain in Byblos (Lebanon) which has its origin from Isis tears looking for her dead husband.
Horus: Falcon God of the sky (Relief from Edfu Temple)
Philae illuminated seen from the Nile (thank you Karthik for this beautiful photo!)

Left: During the Sound and Light Show one only crosses Isis Temple inside, so you wont have more than about 5 minutes to take pictures.

Below: Kiosk of Trajan and Temple of Hathor in the background.
Isis Temple with green illumination inside
Copyright (Philae seen from boat / Nile: J. Karthik K.
all other photos: Petra Dressler.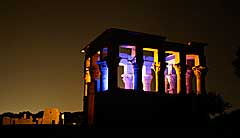 Schedule for Philae Sound and Light Show
= external link, without guarantee
Back to Philae (and package Obelisk, Highdam or Kalabsha)






Sound and Light Show at Philae: Representative and driver to pick you up from your hotel, representative to negotiate and pay boat and captain for you at Philae. The captain, boat and driver will wait for you to take you back to Aswan after the show:
With Limousine
(1-2 persons):
45 USD
With Microbus
(3 persons & more):
55 USD

!!! The show is only started, if there will be more than 13 persons at the ticket counter!
In case there will be no show, you will get 8 USD discount for the transfer, as boat and captain would not need to be paid.

Please understand, that the service to rent a licensed limousine / microbus (new, clean with AC, licenses) and professional driver, to come to your hotel, take you to Philae, a representative to negotiate the boat for you and the driver to wait until the end of the show to bring you back - is not comparable to hail a taxi or negotiate with one of the captains without a representative coming from Aswan to guarantee a carefree evening.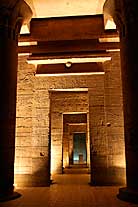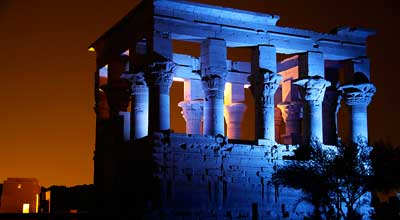 Its getting dark and Mohamed presses the tickets in my hand. "This is your driver of the boat, he will bring you back, so please remember his face!" The boat chuggles away, Far away I see lights of the street behind bizarre rocks, which tower above the water, they throw black, grotesque shadows and give the environment a magic atmosphere.
Having arrived at the island I climb out of the boat and look back at his smiling face. Hopefully I will recognize him. I am standing on a yard, only Germans around me, who are also waiting. Pillars are illuminated, waiters warn not to get behind the barriers.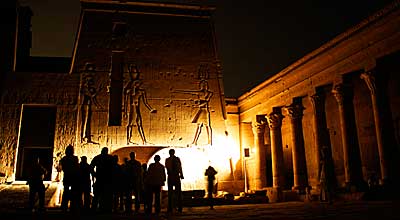 And then its beginning: Music is setting in, two voices tell about about the legend of Isis and Osiris, the rope keeping us outside the temple is falling and a dark man in turban and galabeya is waving for us to follow him. We come from one construction to the next, while listening to the adventures of the Egyptian Gods. The spotlights beam in white, yellow, blue, making reliefs on your left and on your right gleam, the next entry, the next hall. The changing of the lights, these many impressions, I cannot follow the narratives from the tape. The architecture strangely illuminated, I feel like being between romantic pieces of scenery in some beautiful theatre. At the end you will have a seat to listen unto the end of the tape. But I only see Philae, the temple of Isis in front of me and the moon.

At the landing stage people tailgate. I stay behind, I am in no hurry. Suddenly there is a hand waving above the heads, a second hand parrying and the crowd is parting. I can see my driver of the boat calling my name, he is starting the motor and we drive in the quietness while the tourist groups capture the boats behind us.
I have never experienced something comparable. (April 2005)

More informations and
schedule (without responsibility taken): http://www.soundandlight.com.eg/
Photos:
Kiosk of Trajan (with blue light)
Wall from Temple of Isis from outside
First and Second Pylons
Temple of Hathor
Walking through the Sound and Light Show
Copyright all photos: Petra Dressler