Brooke Hospital for Animals:
a charity helping working horses, donkeys and mules through free veterinary treatment
You are welcome to visit a most impressive (non-touristic) place, which gives help to animals, who would never see a doctor, because their owners are not able to afford one:
In 1934, Dorothy Brooke founded the 'Old War Horse Memorial Hospital' in Cairo, with the promise of free veterinary care for all the city's working horses and donkeys…the Brooke Hospital for Animals was born.
"From such simple but emotionally charged beginnings, the Brooke has grown into the international equine lifesaver it is today, working not only in Egypt but also India, Pakistan, Jordan, Israel (Palestinian villages in Israel and the West Bank), Afghanistan, Kenya, Ethiopia and Guatemala.
There are five other clinics in Egypt: Alexandria (opened in 1961), Luxor (1966), Edfu (1992), Aswan (1988), Mersah Matrouh (2000) and recently we have opened a new base in the Nile Delta (2006)." (Copied from www.thebrooke.org)
I went to Brooke hospital in Aswan again and again, to watch animals recover after days of care, to get angry about owners who treat their animals badly - although they work so hard for the income of the family. But often the problem is the unknowingness of the owners. Because of cheap saddles or tack donkeys and horses get bruises down to the flesh. Thats why courses (see pictures) are given regulary by Brooks in the villages.
One day I saw a horse lying on its mattress, I thought it was dead. The next day it was still on its side, but chewing grass slowly. I couldnt believe what the veterinaries had achieved after one day (see fotos)!
More than before I looked at the horses of carriage drivers who asked me to make a tour with them. Although I usually never use a carriage I praised these drivers who had well tended horses.
Brooke Hospital had given me a flyer: Visitors can help in animal welfare! - Discourage fast driving - Refuse to tip the man who is quickly wearing out his horse - Refuse to travel more than four to a cab - If you encourage quiet driving, the horse will remain sound and well.
Refuse to ride amaciated or wounded horse - Refuse to ride lamed or beaten horse.
Another day Dr. Mohamed gave me a tour and showed me the operation room and smithy, Dr. Mustafa showed me the animals in the backyard. I learned, that there are 6 veterinaries working in Brooke hospital in Aswan. Every doctor visits a different village 4 days a week. Like this the villages have a doctor once a week. There animals are treated, owners are taught how to treat their animals. In every village an "animal healer" is trained by Brooke to help the villagers if a doctor is not there.
All doctors I have met are very kind and very professional studied veterinaries. They love their work and have a patience and tenderness I sometimes miss in European surgeries. The hospital itself is a nice place with birds singing in the trees. So different to Aswan outside.
I have asked if they would mind, if I put their hospital on the website of Aswan Individual. If individual tourists could come and visit the place. They have had a look at the website and told me, they would be very happy to welcome visitors and spread the information about Brooke.
How I learned about Brooke? A very young dog was found on Elephanteen, tied up short in a hole, without water and food. I took him home to give food and something to drink, and asked for the address of a vet to get him rid of flees and worms.
The place I was shown is a hospital for animals, about 200 meters away from the office of Egypt Air (at the Corniche). Outside stood carriages with and without horses, cards with donkeys lying on them or in front of them. I went inside the courtyard with the dog in my arms and it took only minutes until I was introduced to a doctor, who treated the dog instantly. I asked how much I would have to pay and was asked if I had heard about Brooke before? No I had not.
The doctor explained to me the hospital would be a place where the animals are treated for free, financed by the project of Brooke. If I wanted to give money I could make a donation and get a receipt for it. Of course I made a donation and I received the quittance. The next day I went there again, without the dog but with my camera.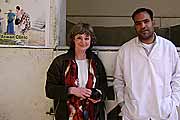 Small pictures:
Brooke hospital from outside - Villagers getting taught by Dr. Mohamed - Horse I thought to be dead and eating grass the next day - Courses for women - Dr. Mohamed outside in a village - Operation rooms in Aswan - Tying up the donkeys opens their legs
To visit Brooke Hospital: take the street right of Egypt Air leading away from the Corniche (street along the Nile). After about 500 meters there is Brooke Hospital at the right side.

Later
Dr. Mohamed Hassib
sent me this email:
"...last week my manger of brooke egypt dr nasser hosny has visited the clinic. i told him about you and he was so happy.
he asked if you could to put our donation number in the web-site to help the people who care about working equine to put their donation in our donation number ...
Brooke hospital for animals
National Bank of Egypt - Main branch -
Account no- 01041870129
(for funding by Egyptian Pounds)
Account no - 11014926457 (for funding by Sterling)

we started the work in 1988
we have 7 clinics in egypt ( aswan - edfu - luxor - cairo - alexandria - marsa matroh - mansoura )
in aswan clinic , we have 6 vet and 1 adminstrator in addition to 14 worker and 3 drivers
we have 3 mobile clinic which cover more than 26 commuinty in addition to aswan city"
More informations are given: http://www.thebrooke.org/
----
In October 2008 Brooke organises a long bicycle tour for tourists along the Nile, with visits to the Brooke clinics in Cairo, Edfu, Aswan and Luxor. (There is a registration fee and you will be expected to raise a minimum amount of money in sponsorship to take part" - more information: www.thebrooke.org)
In Luxor Brooke organised 2007 a competition to instil pride in their horses health and well-being. In a brochure I read: The drivers "visit the clinic for regular health checks, asking if ... they will win the competition ..."