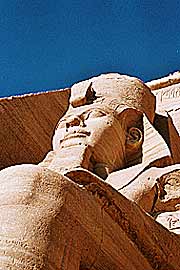 Temples and other antiquities
South from Aswan:
• Abu Simbel
Sightseeing in Aswan:
• Philae Temple (during the day)
• Unfinished obelisk
• Highdam

• Kalabsha temple

• Aswan Museum: Excavation site on Elephantine
• Animalia: Nubia Life, History, Culture and Environment
• Nubia Museum

• Tombs of the Nobles and Qubbet El Hawa
• Monastery of Simeon
• Inscriptions at Seheyl Island
• Aswan Sculpture Park / El Shellal
• Philae Sound and Light Show (in the evening)
Between Aswan and Luxor
• Komombo Temple and Edfu Temple
• The temple of Horemheb at Sil Sila
• Esna Temple (= Temple of Khnum)
• El Kab

In and around Luxor
• Sightseeing in Luxor: eastbank / westbank side:
Karnak and Luxor Temple, Valley of the Kings, Hatchepsut,
Medinat Habu, Deir al Medina and many more tombs / temples

• Hot Air Balloon in Luxor

• Temples in Abydoss and Dendara (north from Luxor)

Lively vibrant Aswan
The suq is not only a typical "tourist bazar" but also the place where inhabitants go for shopping. The Botanical Garden is an island for Aswan families and lovers to chill out. Be our guest and visit the places we love.
• Botanical Garden on Kitchener Island
• Souk: the market to shop in Aswan
• Brooke Hospital for Animals: A charity helping working horses, donkeys and mules
• Camel market in Daraw (transfer by car)

Nubian Villages
• Elephantine-Island (the island across from Aswan with 2 Nubian villages)
• Sahel Island (opposite Old Dam)
• Gharb Sahel Village (at the westbanks - south of Aswan)
• Gharb Aswan (at the westbanks - north of Aswan)
"Nubia". Nubia is the old word for gold and this was reason enough for the pharaos to conquer this country. Nubia begins south of Aswan and goes right down into Sudan. Because of the construction of the Highdam a lot of Nubian villages were flooded and the residents had to be resettled in Aswan, Luxor, Qena, a lot of them as far north as Cairo. Even more Nubians moved to Sudan.
The Nubian people treasure their own culture, their own language, their traditions, their music. The Nubian villages are completly different than "Egyptian" towns: they are quiet and time seems to tick more slowly. There are a lot of Nubian villages all around Aswan.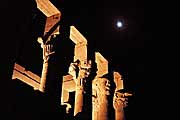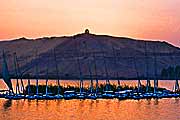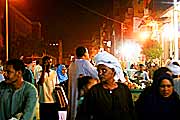 Cruises on the Nile
Moses toured already on the River Nile in a basket.
But its a lot more luxurious to travel the distance of 220 km between Aswan and Luxor with a 4- or 5-stars Nile Cruise Boat.
• Last Minute Nile Cruises
• Felucca
• With motorboat to Crocodile Island on Lake Nasser
Transfers:
Aswan and Luxor
• Transfer from Aswan to Luxor / Luxor to Aswan
with stops at the temples in Komombo and Edfu
(It is also possible to stop at El Kab, Esna and / or Silsila and during each the weekend there is also camelmarket in Daraw).
Or you use this service to get picked up from the felucca somewhere between Aswan and Edfu and drive to Luxor.
• Camel market in Daraw (transfer by car)
(You can also sail with the felucca to Daraw.)
Transfers from Red Sea to Luxor or Aswan