Elephantine Island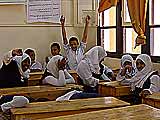 After the short crossing from the riverside walk Corniche of the exuberant lively Aswan (the cheapest way is to take the public ferry across the building of Egypt Air) a changed world opens: you feel a breeze, time seems to tick more slowly, a peaceful and relaxed athmosphere radiates towards you. On the banks women wash clothes in the river Nile, children are bathing and exulting. "Koti" and "Siou" are on the island Elephantine, two nubian villages with together about 3.000 inhabitants, parted by gardens with palms, trees with bananas, guaves and mangos, fields with clover, molochea and corn.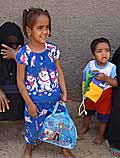 Unimaginable Aswan is so near. The houses - in the typical Nubian architectural style - are painted coulorfully, decorated with crocodile skulls or wall paintings of Mecca pilgrims, where one can discern how he had travelled. In the alleys amphorae are to be found, with "kubayas" on top of them, metal mugs, to scoop the cool water out of the jar and to slake ones thirst.
Goats, chicken, sheep, donkeys, dogs are looking for shade between the houses, nevertheless paths are clean, some puddles of water decrease - insha'allah - the dust. In the gardens between the trees bricks are made out of clay, which are stacked up to small walls. At the western bank there are small beaches of sand with view to the mausoleum of Aga Khan and Kitchener Island, feluccas are tethered up. Boys canoe in tiny rowing boats between Elephantine and Botanical Garden and sing French, English or German nursery rhymes for passing European guests, sailing down the river Nil in feluccas.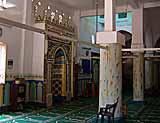 A guided tour through these villages and gardens with Mustafa can be warmly recommended. He loves his island and his felucca, he takes pride in the fascinating changing moments, which will make you stop every other moment, even if he always has to wait to let people take fotos or to look around without haste. Mustafa is keeping a wonderful balance between a lot of explanations and breaks inbetween, which are quite necessary under the sun of Aswan, answering patiently all questions and he will teach you "on the way" Nubian if you find pleasure in learning some words.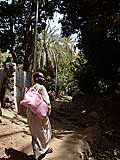 South of Koti one can marvel about the Aswan Museum and the excavation side of Yebu and temples around. (Yebu - old egyptian word for elephant - was the first settlement in this area which started about 6.000 years ago and which has been emporium for ivory. Present-day Aswan had been only the port of Yebu at that time. Still at the beginning of the Old Empire - 2.650 BC - the area around Aswan had been savannah with wild living elephants, according to climate researchers.)
Between Koti and Siou there is a house, in which one can visit endemic stuffed animals. Living crocodilebabies, which will be released later into Lake Nasser, show their big muzzles. Shortly after the plantation in Siou there is a evening meeting point, during the night drums are being beaten, Dominoes are played and there is dancing.
How to get there: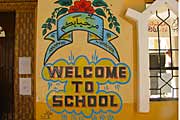 Take the public ferry to get there. Opposite the Office of Egypt Air (short before Ferrial Garden (see map below, almost 2 km south of the trainstation) at the Corniche you will see a small shop selling water and cigarettes. Go there, pass the shop (which has also stairs), pass one more stairs and go down the next. This is the public ferry to Elephantine Island, which costs 2.5 Egyptian Pounds (please dont't expect them to change large notes, but have the money in coins).

There is a lof of hassle up on the street, captains try to sell their felucca. But they will let you go, if they see you only want to cross to the Island. Say the magic word: "La shukr, mush awes" (if you are a woman: ...awesa) - "No thank you, I dont want to" - and they will let you go with a smile because of your fluent arabic.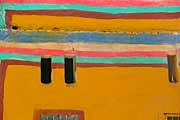 Please see also our guestbook:
Thank you for writing to us, and thank you, Fiona, for your great pictures you allowed me to used on this website!

Thank you so much for the lovely day.
Fatma is an amazing professional guide . I really enjoyed my time with her . She is very knowledgeable and answered all my questions about the lovely village and the history of Nubia. The walk with her through the village alleys were wonderful as well . It couldn't have been much better . I'm quite sure that all your guests ate satisfied by the top quality of your service. Thanks again for the wonderful organization .
Yours, Hussein (Jan 24, 2014)