w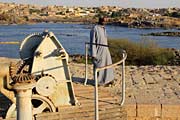 Felucca trip to the Gates of Old Highdam
First of all: it is a very nice felucca tour to start at Elephantine, sail across the Cataract, watch the birds, feel the warm wind, relax and enjoy. The Old Highdam has been built at the turn of the 20th century. It was the largest dam of the world, meassuring almost 2.5 km across and it was made almost entirely of Aswan granite (Lonely planet).
With good wind this tour will take about 4 hours including the stop at the gates of Old Highdam, which - I have to admit - made me scared to cross the high gates to make the photo below. I am not free of giddiness, and one can also just get out from the felucca, take the steps to get on top and walk along the wall itself.
In Germany this place would not be free to roam around, there would be high fences with signs "parents have to look afer their children". Egypt is different, it didnt take long until we had 4 kids following us to ask for "one Euro". Of course Sero - my captain - told them to leave us alone.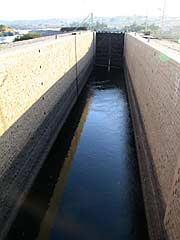 Be warned to watch your step, if you feel the need to cross the gates, hold the handrail, one has to be thin to squeeze between wheels and handrail. No responsibility is taken if anybody wants to cross the gates as I did. And it is not necessary, because - as I said before - you can just walk along the right side instead of crossing to the left side and back to the right side again (see picture). But also walking along the wall: please dont fool around - the gates are very high and tours with locals are on your own risk!
On the way are more nice / interesting stops you can do: there is the "coffeehouse" on the way, Seheyl Island, the "Hunger Stone" and more. Depending how much time you have (and depending on the wind), your captain can advise you about them and ask you if you want to see them or not. (More ideas are on this website: 8 hours felucca)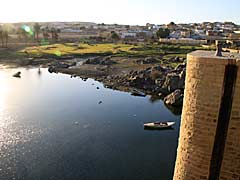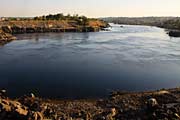 One felucca
each hour 13 USD

Optional - with lunch:
19 USD each person


If no wind to sail:

• Motorboat to tear the felucca against the current near the Dam and then sail back quietly (without motorboat) with the current (relaxing and beautiful):
felucca each hour
13 USD
plus 1x 14 USD for the motorboat

or

• Motorboat only
- if no wind:
cheaper than felucca plus motorboat
(but motorboat is loud, felucca is quiet)
- if you want to see much within short time (motorboat is faster than the felucca)
each hour 14 USD