Temples of Komombo and Edfu
7.30 I meet the driver, 7.45 we have to meet the convoy, 8 a.m the convoy to Luxor leaves (since January 2010 there are no convois anymore - you are free to choose your time of departure). It is always amazing again to drive through not-touristic-villages, to overtake donkey-cards, Toyota cars with cows on them, meager cows being led at the leash by a rider on a donkey. So much poverty, and nevertheless so many smiles one meets looking friendly back out of the window. Children waving hello and being happy when you smile and wave back. Trees beside the street, green fields with cane sugar.
Komombo Temple is just aside the Nile. He has two entrances, two halls, two sanctuaries. Two deities were adored in this temple: the left half was for the Falcon God Horus, the right side for the Crocodile God Sobek. The temple is about 2200 years old.
At 11 a.m. we arrive in Edfu. Edfu Temple is very impressing. The inside reminds of a cathedral with side chapels covered with frescos from floor to ceiling. But instead of paintings all is deeply carved to reliefs, sometimes colours still show. Its horrible to watch tourists who love to touch or even scrape the walls, probably there wont be much time until a lot will be destroyed. The Temple of Horus is one of the biggest ptolemaic tempels of Egypt. The building was started about 2250 years ago, but followed older architectural rules.
At 12 I have to be back at the car, although the convoy back leaves at 1 p.m., arrival in Aswan was 2.30 p.m.
If you dont want to return to Aswan but continue to Luxor, please see here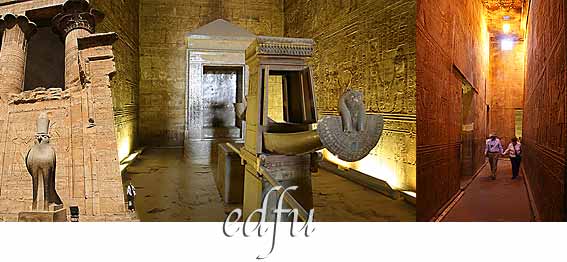 A warning :
At the entrance a lot of carriages are waiting for customers. As usual you will be asked to change European coins as the bank does not take them:
A man was counting to me 20 Euros in little coins. Slowly. We were surrounded by other carriage drivers. He asked me for 150 EGP which is okay. I gave him a 100- plus 50-Egyptian Pound banknotes. He took them and gave them to another man. He counted the Euros once more. Put them in my hand and became angry in the same moment, complaining the 50-Pound-banknote would have been a 50-Piaster-banknote and showed it to me. I knew this was not true, the other man had changed the 50-Pound to a 50-Piaster-banknote. I glared and shouted at them and walked away, expecting they will try to stop me. Instead another carriage driver came after me to ask, if I would make a tour with him. I tried to get rid of him. So he left. The other men had vanished too. And when I wanted to put away the coins, I opened my hands to put away the coins and saw there were only 20-Cent Pieces worth about 5 Euro, instead of the additional Euro coins he had shown before.
I had been told before from other tourists not to change money. I have done it a lot of times and made a lot of honest people happy with it. Do it please, but be careful now you know the trick.
Pickpockets:
beware of kids or other sellers that come too close
"Please add ... about the kids who get really close and push the papyrus art into you so you do not notice them trying to pick your pocket. They tried with me, but I sent them running......The pickpockets were between the Corniche and the souk. ... We were actually warned beforehand by someone in the souk, and again a few times after by numerous people." (David H., Canada)

It hurts me to write warnings here. Before the revolution there was never any stealing. Now - 2 years later - a friend and I were walking with me across the souk and became followed by a man trying to sell a Palestinian Scarf. I tried to send him away, even shouted at him in Arabic: "Challas we Ma'a salam" (Stop and good bye) but he remained. Suddenly my friend became stiff and stopped the hand from the man when it tried to pull his purse from his pocket. Then the man ran away (without loot)
Car and driver from Aswan to Komombo and Edfu and back (4-5 hours driving,
1 hour each at both stops (= 6-7 hours): 130 USD
Same with microbus and driver (up to 8 persons): 180 USD
Optional guide for both temples:
45 USD
---------------

Prices for
Aswan - (Daraw) - Komombo - Edfu - (Esna) - (El Kab) - Luxor, please see this website